Joined

Mar 15, 2017
Messages

2,193
Likes

1,007
Location
Whitney Houston was 'bisexual' and 'had secret love affair with best friend'
Whitney Houston was bisexual and had an affair with her best friend, a new film has claimed. Whitney: Can I Be Me premiered Wednesday night in New York, claiming to reveal more about the late superstar than ever before.
The film adds to the rumour that Houston had been dating her best friend and assistant, Robyn Crawford.
"I don't think she was gay, I think she was bisexual," stylist Ellin Lavar says in the movie. -
Whitney Houston was 'bisexual' and 'had secret love affair with best ...
'It's a sorrowful morning Susie--the wind blows and it rains; "into each life some rain must fall," and I hardly know which falls fastest, the rain without, or within--Oh Susie, I would nestle close to your warm heart, and never hear the wind blow, or the storm beat, again. Is there any room there for me, darling, and will you "love me more if ever you come home"?--it is enough, dear Susie, I know I shall be satisfied. But what can I do towards you?--dearer you cannot be, for I love you so already, that it almost breaks my heart--perhaps I can love you anew, every day of my life, every morning and evening--Oh if you will let me, how happy I shall be!
The precious billet, Susie, I am wearing the paper out, reading it over and o'er, but the dear thoughts cant wear out if they try, Thanks to Our Father, Susie! Vinnie and I talked of you all last evening long, and went to sleep mourning for you, and pretty soon I waked up saying "Precious treasure, thou art mine," and there you were all right, my Susie, and I hardly dared to sleep lest someone steal you away. Never mind the letter, Susie; you have so much to do; just write me every week one line, and let it be, "Emily, I love you," and I will be satisfied!' - Isle of Lesbos: Poetry of Emily Dickinson
Sex and the City star Cynthia Nixon: 'I didn't really identify as bisexual'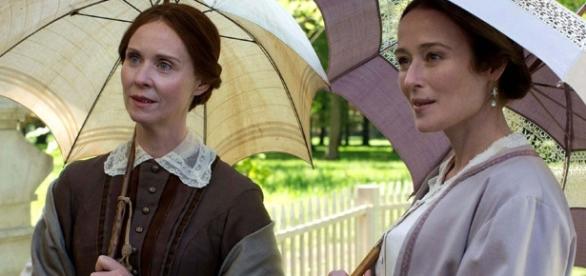 Sex and the City star Cynthia Nixon has clarified comments she made when she appeared to suggest she "chose" to be bisexual.
The star caused controversy shortly before her marriage, when she claimed her homosexuality was a choice.
She later clarified her comments by saying that while her bisexuality was a fact and by no means a choice, she did 'choose' was to be in a gay relationship.
Nixon added that she was speaking strictly of herself, not about the LGBT community at large.
Now, speaking to the Huffington Post, the star has again addressed the controversy and her identity, saying she felt pressured to pick a label.
"I didn't really identify as bisexual," she said, "but people were so insistent that I pick a ― you know, it caused a huge controversy and everyone wanted to graft on to me this narrative ― that I felt that I had just simply been mistaken about myself for all these years and finally the veil was lifted and I was a lesbian. And that was not true."
Nixon also spoke about her role in A Quiet Passion, the upcoming biopic of poet Emily Dickinson written and directed by Terence Davies.
The actress speculates that Dickinson could have been bisexual, and spoke about how hard it is to capture the true essence of her story so many years on.
"I do think she was bisexual. It's so hard for us 150 years later to really get tone right."
The actor says she has read letters sent between Dickinson and her sister-in-law Susan Gilbert, saying she thought there "was a love affair there".
"I do think it seems very clear that whatever the nature of that relationship was, that Emily had passionate love affairs with men as well, and again whether those had a physical component or they were a love from afar, it's very hard for us to to know," Nixon said.
"But certainly I think the ardour was there with Susan and with certainly one other man, probably three men she was in love with." -
Sex and the City star Cynthia Nixon: 'I didn't really identify as bisexual ...
Adventist Pastor Resigns After Coming Out as Bisexual
Pastor Alicia Johnston announced her resignation from Arizona's Foothills Community Church of Seventh-day Adventists in the form of a video. In it, she discussed her decision to leave her position due to a disagreement with the Church's teachings on LGBTQ people.
"I don't know how to minister anymore without being honest about that," she said in the video, shortly before saying, "I, myself, am bisexual."
Johnston had served as the sole pastor of the Foothills Community Church for the last year, a notable position considering the Protestant Christian denomination's ongoing heated debate over women's ordination. She holds a Masters in Divinity from Andrews University, the flagship school of the Seventh-day Adventist Church.
"I want to break the deadly silence that exists in churches that don't affirm LGBT people for who they are," Johnston said via email to NBC Out. "That silence has to be broken to reach queer people who feel today like I used to feel: ashamed, unwanted and inconvenient."
Johnston, who still identifies as an Adventist, said she hopes her story will help LGBTQ people of faith to know that they are not alone, and will encourage Christians to change their theology around LGBTQ people.
"Pay attention to the lives of those your theology is impacting," she said. "Give them a seat at the table and listen and learn with respect." -
Adventist Pastor Resigns After Coming Out as Bisexual
Last edited: