Joined

Jan 14, 2016
Messages

55,919
Likes

53,649
Location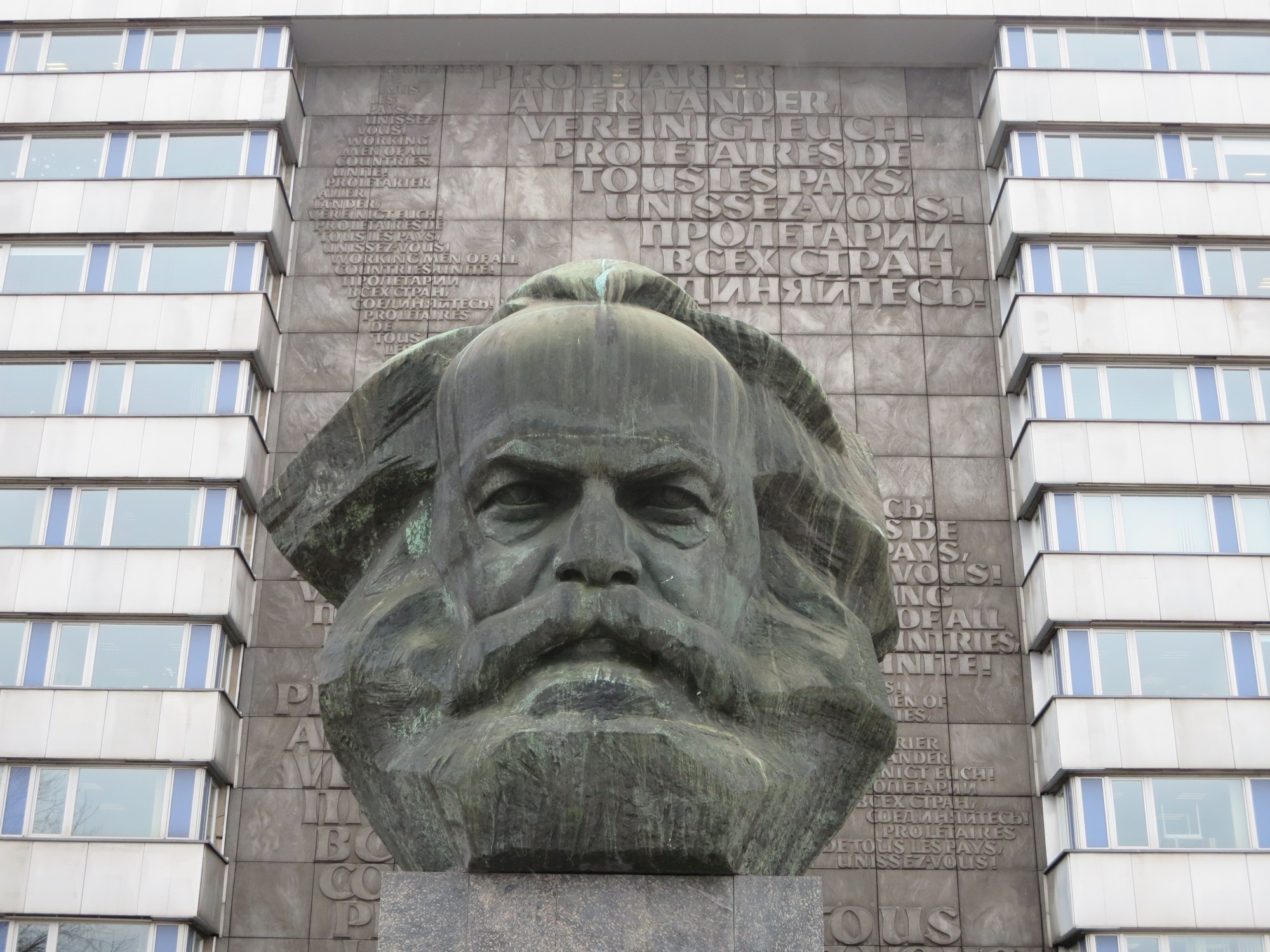 Karl Marx Monument in Chemnitz, Saxony, Germany.
​
Following on from a discussion on another thread, I thought we might investigate how the European has seen the Jew thought the eyes of three of Europe's most noted thinkers - Karl Marx, Georg Wilhelm Friedrich Hegel, and Martin Luther.

Let's start with Karl Marx as he himself came from Jewish stock and might be expected to have something of insider knowledge of this topic.
PART 1: KARL MARX
In 1843, Marx wrote a paper called "On the Jewish Question." It addresses a subject that was topical at the time, i.e. accepting Jews as full citizens of European states. Napoleon had made the Jews full citizens of the French Republic in 1806, but other European states were reluctant to follow suit. And let's remember that Catholics were only emancipated in Britain in 1829. And while the Jews had exerted de facto financial control over the British empire since its inception, the ordinary English people and the English nobility were very reluctant indeed to allow this financial control to become blatant political and cultural control.

As was Marx's wont, he addresses the question of Jewish citizenship in a highly philosophical manner, getting straight to the root of the question. His paper is in response to another essay by Bruno Bauer, which tried to set out the conditions for Jewish emancipation. Marx writes:

Let us not look for the secret of the Jew in his religion, but let us look for the secret of his religion in the real Jew.

What is the secular basis of Judaism? Practical need, self-interest. What is the worldly religion of the Jew? Huckstering. What is his worldly God? Money.

Very well then! Emancipation from huckstering and money, consequently from practical, real Judaism, would be the self-emancipation of our time.

An organization of society which would abolish the preconditions for huckstering, and therefore the possibility of huckstering, would make the Jew impossible. His religious consciousness would be dissipated like a thin haze in the real, vital air of society. On the other hand, if the Jew recognizes that this practical nature of his is futile and works to abolish it, he extricates himself from his previous development and works for human emancipation as such and turns against the supreme practical expression of human self-estrangement.

We recognize in Judaism, therefore, a general anti-social element of the present time, an element which through historical development – to which in this harmful respect the Jews have zealously contributed – has been brought to its present high level, at which it must necessarily begin to disintegrate.

In the final analysis, the emancipation of the Jews is the emancipation of mankind from Judaism.

The Jew has already emancipated himself in a Jewish way.

"The Jew, who in Vienna, for example, is only tolerated, determines the fate of the whole Empire by his financial power. The Jew, who may have no rights in the smallest German state, decides the fate of Europe. While corporations and guilds refuse to admit Jews, or have not yet adopted a favorable attitude towards them, the audacity of industry mocks at the obstinacy of the material institutions." (Bruno Bauer, The Jewish Question, p. 114)

This is no isolated fact. The Jew has emancipated himself in a Jewish manner, not only because he has acquired financial power, but also because, through him and also apart from him, money has become a world power and the practical Jewish spirit has become the practical spirit of the Christian nations. The Jews have emancipated themselves insofar as the Christians have become Jews.

Captain Hamilton, for example, reports:

"The devout and politically free inhabitant of New England is a kind of Laocoön who makes not the least effort to escape from the serpents which are crushing him. Mammon is his idol which he adores not only with his lips but with the whole force of his body and mind. In his view the world is no more than a Stock Exchange, and he is convinced that he has no other destiny here below than to become richer than his neighbor. Trade has seized upon all his thoughts, and he has no other recreation than to exchange objects. When he travels he carries, so to speak, his goods and his counter on his back and talks only of interest and profit. If he loses sight of his own business for an instant it is only in order to pry into the business of his competitors."

Indeed, in North America, the practical domination of Judaism over the Christian world has achieved as its unambiguous and normal expression that the preaching of the Gospel itself and the Christian ministry have become articles of trade, and the bankrupt trader deals in the Gospel just as the Gospel preacher who has become rich goes in for business deals.

"The man who you see at the head of a respectable congregation began as a trader; his business having failed, he became a minister. The other began as a priest but as soon as he had some money at his disposal he left the pulpit to become a trader. In the eyes of very many people, the religious ministry is a veritable business career." (Beaumont, op. cit., pp. 185,186)

According to Bauer, it is

"a fictitious state of affairs when in theory the Jew is deprived of political rights, whereas in practice he has immense power and exerts his political influence en gros, although it is curtailed en détail." (Die Judenfrage, p. 114)

The contradiction that exists between the practical political power of the Jew and his political rights is the contradiction between politics and the power of money in general. Although theoretically the former is superior to the latter, in actual fact politics has become the serf of financial power.

Marx then continues,

Money is the jealous god of Israel, in face of which no other god may exist. Money degrades all the gods of man – and turns them into commodities. Money is the universal self-established value of all things. It has, therefore, robbed the whole world – both the world of men and nature – of its specific value. Money is the estranged essence of man's work and man's existence, and this alien essence dominates him, and he worships it.

The god of the Jews has become secularized and has become the god of the world. The bill of exchange is the real god of the Jew. His god is only an illusory bill of exchange.

The view of nature attained under the domination of private property and money is a real contempt for, and practical debasement of, nature; in the Jewish religion, nature exists, it is true, but it exists only in imagination.

It is in this sense that [in a 1524 pamphlet] Thomas Münzer declares it intolerable
"that all creatures have been turned into property, the fishes in the water, the birds in the air, the plants on the earth; the creatures, too, must become free."

Contempt for theory, art, history, and for man as an end in himself, which is contained in an abstract form in the Jewish religion, is the real, conscious standpoint, the virtue of the man of money. The species-relation itself, the relation between man and woman, etc., becomes an object of trade! The woman is bought and sold.

The chimerical nationality of the Jew is the nationality of the merchant, of the man of money in general.
The groundless law of the Jew is only a religious caricature of groundless morality and right in general, of the purely formal rites with which the world of self-interest surrounds itself.

Here, too, man's supreme relation is the legal one, his relation to laws that are valid for him not because they are laws of his own will and nature, but because they are the dominant laws and because departure from them is avenged.

Jewish Jesuitism, the same practical Jesuitism which Bauer discovers in the Talmud, is the relation of the world of self-interest to the laws governing that world, the chief art of which consists in the cunning circumvention of these laws.

Marx concludes with the following lines of brilliant analysis:

Judaism reaches its highest point with the perfection of civil society, but it is only in the Christian world that civil society attains perfection. Only under the dominance of Christianity, which makes all national, natural, moral, and theoretical conditions extrinsic to man, could civil society separate itself completely from the life of the state, sever all the species-ties of man, put egoism and selfish need in the place of these species-ties, and dissolve the human world into a world of atomistic individuals who are inimically opposed to one another.

Christianity sprang from Judaism. It has merged again in Judaism.

From the outset, the Christian was the theorizing Jew, the Jew is, therefore, the practical Christian, and the practical Christian has become a Jew again.

Christianity had only in semblance overcome real Judaism. It was too noble-minded, too spiritualistic to eliminate the crudity of practical need in any other way than by elevation to the skies.

Christianity is the sublime thought of Judaism, Judaism is the common practical application of Christianity, but this application could only become general after Christianity as a developed religion had completed theoretically the estrangement of man from himself and from nature.

Only then could Judaism achieve universal dominance and make alienated man and alienated nature into alienable, vendible objects subjected to the slavery of egoistic need and to trading.

Selling [verausserung] is the practical aspect of alienation [Entausserung]. Just as man, as long as he is in the grip of religion, is able to objectify his essential nature only by turning it into something alien, something fantastic, so under the domination of egoistic need he can be active practically, and produce objects in practice, only by putting his products, and his activity, under the domination of an alien being, and bestowing the significance of an alien entity – money – on them.

In its perfected practice, Christian egoism of heavenly bliss is necessarily transformed into the corporal egoism of the Jew, heavenly need is turned into world need, subjectivism into self-interest. We explain the tenacity of the Jew not by his religion, but, on the contrary, by the human basis of his religion – practical need, egoism.

Since in civil society the real nature of the Jew has been universally realized and secularized, civil society could not convince the Jew of the unreality of his religious nature, which is indeed only the ideal aspect of practical need. Consequently, not only in the Pentateuch and the Talmud, but in present-day society we find the nature of the modern Jew, and not as an abstract nature but as one that is in the highest degree empirical, not merely as a narrowness of the Jew, but as the Jewish narrowness of society.

Once society has succeeded in abolishing the empirical essence of Judaism – huckstering and its preconditions – the Jew will have become impossible, because his consciousness no longer has an object, because the subjective basis of Judaism, practical need, has been humanized, and because the conflict between man's individual-sensuous existence and his species-existence has been abolished.

The social emancipation of the Jew is the emancipation of society from Judaism.

Full text:

On The Jewish Question by Karl Marx
Last edited: