Joined

Mar 23, 2016
Threads

8
Messages

58
Likes

52
a chara,
Michelle O'Neill has been appointed by the party to take up the position of party leader in the North and this will be announced at 2pm this afternoon at an event in the Long Gallery in Stormont. Despite all the media speculation, we would ask that you keep the information confidential until that time.
Michelle is a long standing member of the party, has been an MLA in the Assembly since 2007 and held the positions of Minister for Agriculture and Health. She is also a member of the Ard Chomhairle and part of our negotiations team.
We have done an interview with Michelle which will go up on facebook and the party's website at 2pm, similar to that done with Martin McGuinness last week. At the same time holding the event at the Long Gallery in Stormont, which will be attended by party activists, MLAs and TDs and will be chaired by Mary Lou McDonald and addressed by Gerry Adams, Martin McGuinness and Michelle O'Neill.
We will circulate the interview and Michelle's keynote address at 2pm and ask that you share the video on social media.
Is mise,
Dawn Doyle
Ard Runaí
Donate to Sinn Féin
Donate now
Connect With Us:
Facebook
Twitter
Contact Info:
Sinn Féin
44 Parnell Square
Dublin 1, Ireland
Tel: (353) 1 8726100/8726932
Email:
news@supporters.sinnfein.ie
Terms | Privacy | Unsubscribe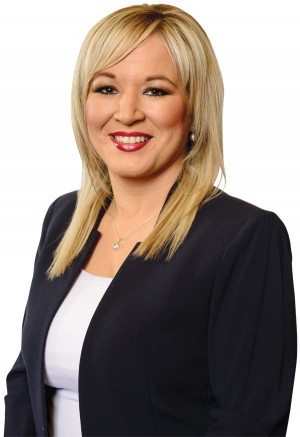 Michelle O'Neill is the Sinn Féin Assembly Member for the constituency of Mid-Ulster and Minister for Health.
A formidable campaigner she has championed issues of equality, autism, disability, mental health and the rights of rural dwellers since first being elected as an Assembly Member in March 2007.
Michelle served in local government as a member of Dungannon and South Tyrone Borough Council from 2005 until 2010 - becoming the first woman to hold the position of Mayor of the Dungannon council area.
Michelle O'Neill