Moderator
Donator
PI Member
Joined

Jan 14, 2016
Messages

37,497
Likes

36,143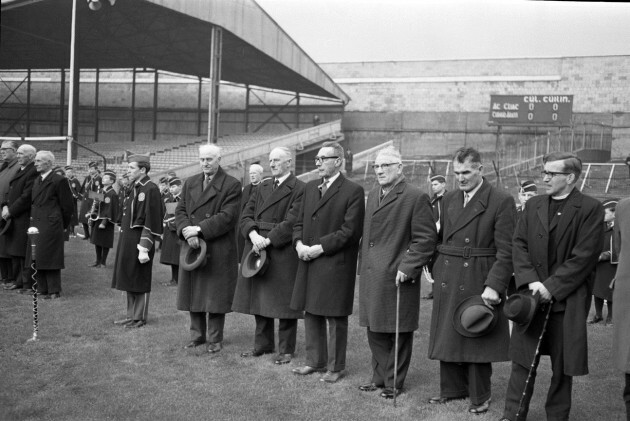 Bloody Sunday Commemoration before Dublin and Tipperary Final 21.11.1965
​
On this day, 21 November, in 1920, foreign occupation forces broke into Croke Park and began firing indiscriminately into the crowd watching Dublin play Tipperary. Eleven were murdered instantly and scores injured. Three more died of their injuries later. The invaders took out two Republican POWs on the same day and murdered them, along with a civilian who they thought might be an IRA Volunteer. This mass murder attack was a reprisal for Michael Collins' Squad having executed the Cairo Gang on the same morning in a co-ordinated operation across the city. The Cairo Gang were a group of English assassins that had been brought in to assassinate the elected representatives of the Irish people.
The names of the victims of the Croke Park mass shooting are,
Jane Boyle (26) Dublin

James Burke (44) Dublin

Daniel Carroll (30) Tipperary (died 23 November)

Michael Feery (40) Dublin

Michael 'Mick' Hogan (24) Tipperary

Tom Hogan (19) Limerick (died 26 November)

James Matthews (38) Dublin

Patrick O'Dowd (57) Dublin

Jerome O'Leary (10) Dublin

William Robinson (11) Dublin (died 23 November)

Tom Ryan (27) Wexford

John William Scott (14) Dublin

James Teehan (26) Tipperary

Joe Traynor (21) Dublin
The IRA POWs tortured and murdered at Dublin Castle were,
Óglach Dick McKee (27), Briogáid Báile Átha Cliath
Óglach Peadar Clancy (32), Briogáid Báile Átha Cliath
The civilian tortured and murdered at Dublin Castle was,
Conor Clune (27) Clare
Ar dheis Dé go raibh a n-anam dílis.
I won't bother to mention the names of the English dogs who were exterminated by Collins and the Squad, but I'm sure some West Brit will be along to do it - and the Blue Shirts will be putting their names up with the rest of the Black and Tans in Glasnevin on the Wall of Shame.