Joined

Nov 21, 2015
Messages

26,338
Likes

18,814
We can safely now forecast that Sinn Fein deputy Kathleen Funchion won't survive this massive blow in the next general election in Carlow-Kilkenny.
Whatever about Cllr. Jimmy Deane, Cassin was the mainstay, the life and the soul of Sinn Fein across the Carlow end of this constituency. Sinn Fein was his life for the old stalwart of republicanism.
And he is supported in Bagenalstown by Councillor Andy Gladney's revolt against the party's housing policies that gives Council houses to incomers rather than locals
.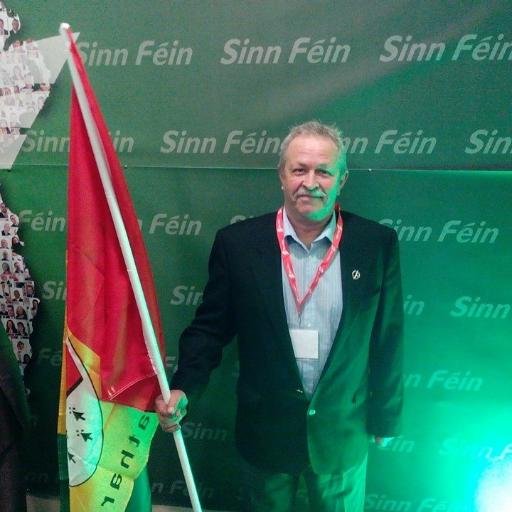 Hero SF Councillor Andy Gladney
Defeat now stares Kathleen Funchion and
her brand
of Sinn Fein in the face.
An ambitious man himself, and rightly so, the popular Councillor Jimmy Deane is all that Funchion can now call upon to support her the length and breadth of Carlow, and Jimmy, though the nicest of men, is in no way up to such a mammoth task.
Cassin was the man, the mainstay of Sinn Fein in Carlow, as Andy Gladney, a decent working-class man, is in Bagenalstown.
Andy has demanded houses for the Irish, flying in the face of Sinn Fein party policy that demands houses for asylum seekers. Andy has told the party to stick their policy in favour of housing the incomers instead of his local Irish - and incredibly the Sinn fein party has bowed down and taken it from Andy.
They are that badly off, split and divided now in Carlow-Kilkenny - in East Kilkenny , for instance, 23 members of the local Sean Haltigan cummann have been isolated by Funchion and her party for the past couple of years, while local retired local Sinn Fein organiser Stephen Mullally tells us that he has been ignored for years by the Funchion faction that that took over the party from him.
- Stephen actually recruited Kathleen the first day into the Sinn Fein party, the time she worked in a bookshop in Rose inn Street in the city. However , Stephen told us that for old times sake he will campaign for Sinn fein in this election and personally for Sean Tyrrell here in the city.
Councillor Cassin was the most popular Sinn Feiner in this constituency and the most devoted too. His work for people is legendary. With his resignation Carlow is now as good as lost to the party - and he had racked up a massive vote from Carlow for Kathleen Funchion in the last general election, just as Melissa O'Neill did across South Kilkenny.
Add to that Andy Gladney's rebellion and you have a nightmare scenario now for Sinn Fein next year in the general election - and it can only get worse, especially if headquarters decides to act against Andy Gladney in Bagenalstown and expel him for wanting to house his fellow Irish people.
Sinn Fein is ripped apart at the seams in Carlow Kilkenny.
They are split wide open. Add to this the fact that Kathleen Funchion has not been able to make any impact at national level in the Dail while the talk here in Kilkenny city is of abject failure to serve her constituents.
- here in the city the Kilkenny Journal has been hearing complaint after complaint from those who put their trust in her and voted for her, and they are all crying, Never Again! Indeed her consort Sean Tyrrell's election campaign in this city seems to have evaporated before it even got off the ground.
Sinn Fein has lurched from disaster to disaster across Carlow-Kilkenny over the past couple of years, but the shock resignation of such a powerful figure as John Cassin must be the final nail in their coffin in this neck of the woods.
Cassin says he will remain a true Republican as an Independent, and if you're in Carlow such a courageous politician certainly deserves your number one vote, he and Cllr. Gladney, and Melissa O'Neill in the Piltown electoral area of South Kilkenny.
There is now no doubt that Councillor John Cassin will also be a candidate for Carlow-Kilkenny in the next general election for Dail Eireann when he could exceed five thousand former Sinn Fein Carlow First Preference Votes.
A very, very clear Message to the Misfits, Cynics, Misanthrops & Deadbeat Doomongers on the Far Right who thought that there were no Patriots outside of their confined parameters.
The Far Left have less Deadbeat Doomongers than the Far Right.
There are Patriots, Converts & Eurodubious Participants within the Highest Echelons of the Judiciary, Media, Establishment Political Parties, Banks, Revenue Commissioners, Stockbrokers & Civil Service biting their Lip waiting for the right Moment.
Professor Dolores Cahlill of Irexit will lead more out into the Open.
FFS - Andy isn't even the only Councillor in Carlow to express these Noble Sentiments.
​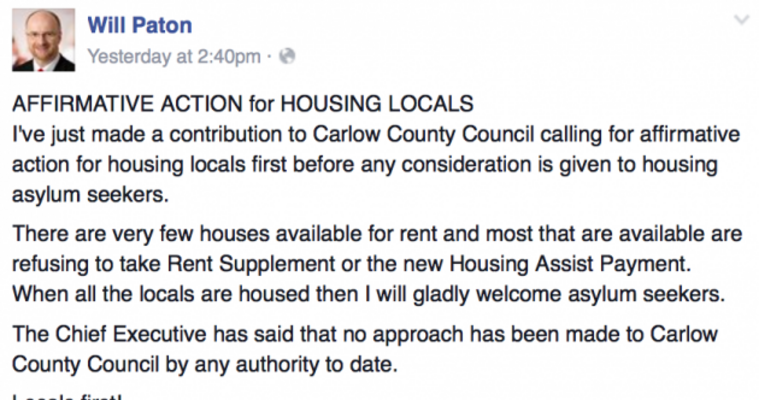 Will Paton has called for affirmative action for housing locals in Carlow.

www.thejournal.ie
​
https://www.carlowlive.ie/news/politics/363283/breaking-sinn-fein-councillor-not-seeking-the-party-s-nomination-in-upcoming-local-elections.html#.XGF5dnZuMj9.facebook He looks like Salvini- let's hope he has the same Policies :D In the last few Weeks, Una D'arcy, Dave Doran & now John...
www.politicalirish.com