Joined

Oct 30, 2015
Messages

564
Likes

78
Points

28
Location
A couple of off topic comments on another
thread
got me thinking about this. It may be an instructive comparison to think about.
If someone has a love of and a connection with this land, and they feel themselves that that is strong enough that they would like to be thought of as "Irish", well that is more than good enough for me.
Would it be good enough for any Tom, Dick or Mohammed Ali who wanted to be an Israeli?
You ought to visit Israel one day. Perhaps you would then see how the Jewish nation is a living fact in Israel. Just as you would find the Irish nation a living fact in Ireland in the same way.
So you'd have no problem with hundreds of thousands of non-Jews (Africans, Arabs etc) settling in Israel every few years? But wouldn't your "Jewish nation" eventually be diluted so much that it'd cease to exist in any meaningful way?
Now, first, let's deal with the percentage demographics. Get that out of the way.
It would appear from the post above, that the main area of concern is "Africans, Arabs, etc." as was mentioned.
Taking Israel first, let's just focus on numbers of Arabs living there. (We know as well that the vast majority of them are Muslim). I think a simple graph will suffice to illustrate.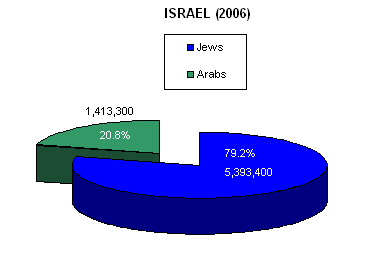 Now what is the corresponding situation in Ireland? - Well here are a couple of graphs I put together to try and depict the reality. (open image in new tab to see the full size image).
Alright.
Next, let's deal with attitudes.
We need to first put aside the "anti-Zionist" propaganda and deal
with reality
if we're going to get anywhere
.
- Of course, Israel is not in any meaningful way an
"apartheid state"
. Nothing in Israel comes close to the definition of apartheid under the 1998 Rome Statute. (Israeli Arabs vote, work at the highest levels of Israeli governance, civil service and judiciary. They hold collective rights as a national minority, guaranteed equal rights under the law. They have a thriving media, literature and theatre scene. They have Arabic designated as an official language. Arab patients lie alongside Jewish patients in Israeli hospitals, receiving identical treatment, and so on and so on.
Opinion | Israel and the Apartheid Slander
etc.)
Importantly, in all major and significant strands of Zionism, the aim has been to establish a friendly and constructive co- operation with the Arabs to benefit both sections of the population materially and spiritually.
(It is only a sign of the mass appeal of the Arab extremist "anti-Zionist" propaganda that most people on here will choke on their cornflakes at the above, but it is absolutely true.)
So, the question is,
WHAT IS THE ISSUE,
in reality
. - What criteria should we apply to welcoming new arrivals to our land? What is the criteria that
ought
to drive
our
attitudes to immigration?
To answer this question, I want to suggest we have a look towards one of the furthest politically right (allegedly), and most demonised of Israeli politicians. (Note that I only draw on that kind of person, mainly because if I drew on a 'Left' or Labour Zionist, who indeed often say the same thing, I would be accused by people on here of representing an untypical view.)
Without further ado, here is Avigdor Lieberman.
- In the following article he wrote, we find that what he is calling for, the criteria he is advocating, is
"
responsible citizenship
".
(And we find that like most other people in Israel, he also explicitly states that "
I welcome the contribution of minorities to Israel's flourishing.
".)
The Case For 'Responsible Citizenship' in Israel
So, I suggest that is what people on here should be looking at.
Vis - any problems that arise (btw I am not talking about the problems that the work-shy, small-endowed and battered-sausage-complexioned Irish have with many of our recent arrivals), and I am not denying that problems arise, are
NOT
due to:
Country of origin.
Colour of skin.
Racial or ethnic particulars.
Religion.
Certain cultural reservednesses.
Traditional tribal awarenesses.
Non-adaptive conformity.
And so on.
The problem, the only problem,
the only criteria that should ever be applied to judge whether we are welcoming or not
,
is whether they have an intent to be a good Irish citizen
- to develop a certain faithfulness for our land, and our way of life, and not to try and attack it and/or undermine it.
Btw, this even includes Islamists (a Muslim who believes Islam has something to say beyond the private sphere). As there are some who do not cling to the negative and inhumane aspects, and the fanatic and discriminatory aspects, of Islam, and who believe in democracy and the duties of citizenship etc.
That is not to dismiss the likelihood of there being seditious currents in say the Clonskeagh mosque, and to say they should be rooted out. Of course they should. (Btw it's not just the Clonskeagh mosque - I note many so called Irish on here, even calling themselves, wrongly, 'patriots', would appear not to meet the important criteria, and I think they ought to be treated in the same manner as Islamists who seek the destruction of the state.)
The main points stand though (a) it is wrong to judge of the likelihood of being a high-risk, bad citizen based on such factors as I bullet-pointed above (b) I think we could learn a lot of good things in this regard from the Israeli Jews about this.
Anyway, do people agree this is the important criteria? You can answer the poll if you like.
Last edited: