Staff member
Moderator
Premium
PI Member
Joined

Jan 14, 2016
Messages

45,960
Likes

45,255
Location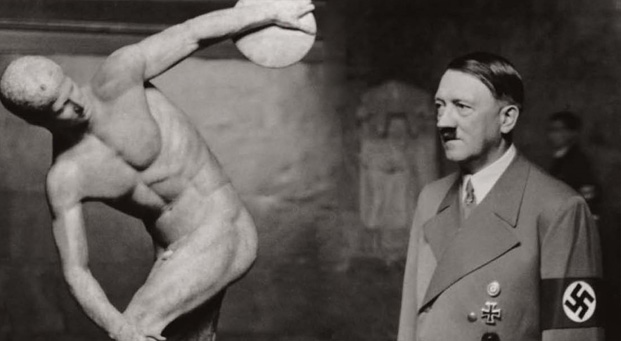 ​
Following on from another discussion about taking the wind out of the sails of the Liberals by just agreeing with the magic words they use, such as "racist," "homophobic," etc. etc., I was reminded by this landmark speech given by Adolf Hitler in 1920. Already in Germany to be branded "Antisemitic" was a political touch of death. The Jews owned most of the media, and they would target anyone who they suspected of not loving the New Zion that Germany had become. In 1920, the National Socialists were a small party and it would have been difficult for them to get any attention. One spectacular way to do that was to publicize a meeting with the title "Why we are Antisemites." That was sure to get a lot of press attention, and to have the Lefties arrive in force to try to violently break up the meeting. The ensuing violence would then draw even more media and public attention.
But, there are some very interesting sections in the speech that are worthy of contemplation. For example:
What does it mean – work?
Work is an activity performed not of one's free will, but for the sake of one's fellowmen.
This is a complete rejection of homoeconomicus - the man who is reduced to an economic being - and can thus be regarded as an Antisemitic sentiment. Not that the Jews themselves reduce themselves to homoeconomicus. Far from it. The Jew regards his race as the most important thing to him. Indeed, his religion teaches him that his race stands out in distinction as one side of a contract with God. The Jew is so racist, that he wouldn't even let God be part of his race - but rather as an alien to be bargained with. But, the Jew wants the European to be reduced to homoeconomicus (and homosexual too). Why? Because if the Europeans think like the Jew, i.e. values his own race and works for the survival of his own race - then the European will automatically throw the Jewish usurer off his back, and the backs of his children. Much better to keep the European as an atomized Liberal, who believes in nothing and who does not actually work - because work is for the community - but just sells his labour for commodities for his own private enjoyment.
Then there is this section:
Now we have to ask ourselves the question: How about the Jew as a state builder? Does the Jew possess the power to create a state? First we must examine his attitude to work, find out how he perceives the principle of work, and excuse me if I now take a book called The Bible. I am not claiming that all its contents are necessarily true, as we know that Jewry was very liberal in writing it. One thing, however, is certain: it has not been written by an antisemite. (Laughter) It is very important because no antisemite would have been able to write a more terrible indictment against the Jewish race than the Bible, the Old Testament. Let us take a look at a sentence: "By the sweat of thy brow shalt thou eat bread." And it says that it was to be a punishment for the Fall of Man.
Ladies and Gentlemen! Already here we see that the whole world lies between us; we could never conceive of work as a punishment – otherwise we would all have been convicts. We do not want to conceive of work as punishment. I must confess: I would not have been able to exist without work, and hundreds of thousands and millions would have been able to withstand perhaps 3 or 5 days, maybe even 10, but not 90 or 100 days without any activity. If Paradise really existed, the Land of Plenty, then our people would have been unhappy in it. (Calls: Hear, hear) We Germans seek constantly a possibility to do something and if we cannot find anything, at least from time to time we hit one another in the face. (Laughter) We are unable to bear absolute rest.
There is a vitally important point being made here. In today's Capitalist society, hundreds of millions of people drudge away their lives in hateful jobs doing things that are as soul destroying as they are useless. But, we are not supposed to find that strange. Why? Because work is supposed to be a punishment. How nice for the Capitalists. They accumulate vast profits by turning what's best about mankind - his work - into a punishment. In effect, the Capitalist has turned all of society into one great prison - and he has the words of the Bible to "prove" that this is how God intended it to be.
Hitler continues,
For them work is not an obvious ethical duty but at most a means to sustenance. In our eyes, this is not work because in this case any activity serving self-preservation, without regard to fellow men, might be called work. And we know that this work, in the past, consisted of plundering of caravans, and today in planned plundering of indebted farmers, industrialists and workers. The form has changed but the principle is the same. We do not call it work, but robbery.
For the next section, just substitute the word "Jew" for the term "modern European," and you will see how right Karl Marx was when he said that today's Christians have all become Jews.
Finally, the Jew does not possess the third factor: The inner spiritual life. I do not need to explain here what a Jew generally looks like. You all know him. (Laughter) You know his constant restlessness that never gives him a possibility to concentrate and have a spiritual experience. In the most solemn moments he flickers his eyes and one can see that even during the most beautiful opera he is calculating dividends. (Laughter) The Jew has never had his own art. (Hear, hear) His own temple has been built by foreign builders: The first was the Assyrians, and for the building of the second – the Roman artists. He has not left anything which might be called art, no buildings, nothing. In music, we know that he is only able to skillfully copy the others' art. We shall not conceal that today he has many famous conductors whose fame he can thank the well-organized Jewish Press for. (Laughter)
When a nation does not possess these three traits, it is not able to create states. And that is true because throughout centuries the Jew was always a nomad. He has never had what we might call a state. It's a mistake which is spreading widely today to say that Jerusalem was a capital of a Jewish state of a Jewish nation. On the one side, there was always a great chasm between the tribes of Judah and Caleb and the northern Israeli tribes, and only David, for the first time, succeeded in gradually bridging the chasm through the unitary cult of Yahweh. We know precisely that this cult has at a very late time chosen for itself Jerusalem as its sole seat. Only from that moment have the Jewish people gotten a center, like Berlin or New York or Warsaw today. (Hear, hear) This was a town in which the Jew, thanks to his talents and traits, gradually achieved predominance, partly through the force of arms, partly through the "power of trombones." Besides, the Jews, already in those times, lived as a parasite in the body of other peoples and it had to be so. Because a people which does not want to work – the often hard work of building and maintaining a state – to work in mines, factories, in construction etc.; all this was unpleasant to the Hebrew. Such a people will never establish a state but prefers to live in some other state where others work and he acts as an intermediary in business, a dealer in the best case, or in good German – a robber, a nomad who undertakes robbing raids just like in ancient times. (Lively bravo! and hand clapping)
And so we can now understand why the whole Zionist state and its establishing is nothing but a comedy. Herr Chief Rabbi has now said in Jerusalem: "Establishment of this state is not the most important; it is far from certain if it will at all be possible." However, it is necessary that Jewry has this city as its spiritual headquarters because Jewry "materially and in fact are the masters of several states; we control them financially, economically and politically." And so the Zionist state is going to be a harmless corn of sand in the eye. Efforts are made to explain that so and so many Jews have been found that want to go there as farmers, workers, even soldiers. (Laughter) If these people really have this urge in themselves, Germany today needs these ideal men as turf cutters and coal miners; they could take part in building our water power plants, our lakes etc. but it does not occur to them. The whole Zionist state will be nothing else than the perfect high school for their international criminals, and from there they will be directed. And every Jew will, of course, have immunity as a citizen of the Palestinian state (Laughter) and he will of course keep our citizenship. But when caught red-handed, he will not be a German Jew any longer but a citizen of Palestine. (Laughter)
Well, sadly, the Zionist state turned out to be far from harmless. But it is a fact that the Jews there are not overly fond of hard work. They prefer to depend on billions in handouts from the Americans and the Germans. But, that's not the really important point. What's really important is the fact that today's Europeans have become nomads of abjection. No connection to any place, no connection to their blood, no connection to tradition. Here in Ireland, we have no end of gobshites who gleefully proclaim the death of the Gaelic language and culture and just can't wait until they are recognised as being fully rootless cosmopolitans by their fellow rootless cosmopolitans in New York, London and Berlin. These abject creatures have no spiritual life, no art, and no ability to build anything. All they do is destroy.
Full text of Adolf Hitler's speech:
"Why We Are Antisemites" - Text of Adolf Hitler's 1920 speech at the Hofbräuhaus | Carolyn Yeager